Last Friday I found myself at The Shard with one of my best friends and OMG! What a view!
This building has firmly established itself as one of London's most popular destination landmarks and the stunning 360° views across the City of London and beyond are simply incredible.
Although it opened in early 2013 and has already welcomed thousands of visitors to its impressive observation decks this was my first visit despite living and working in London. The views can be taken in from the 69th and 72nd floors; its super-fast lifts left me with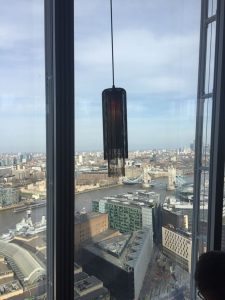 butterflies in my stomach and the interactive visitor displays are as much a part of the fabulous experience that you can enjoy from this unique vantage point from the top of The Shard.
We were greeted by the Maitre D' and made to feel most welcome even though we had no reservation…luckily it was early evening and we were able to have a seat near the huge floor to ceiling windows.
So next time you're looking for an impromptu night out don't write off The Shard…it really was a marvelous experience and the Gin cocktails were to die for; served in huge balloon glasses!
Elisa x