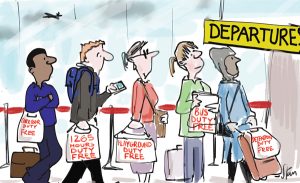 International schools and foreign branches of elite private schools are tempting thousands of state school teachers to leave the UK, causing a skill brain-drain. We are investing tax-payers' money in training teachers, giving them a degree that is valued around the world, and then they leave – mostly never to come back.
For the fourth consecutive year, National Audit Office (NAO) says that the teacher trainee recruitment drive has failed to meet its target. It is no secret that there is a shortage of teachers in most subjects and especially in challenging schools. There were 455,000 teachers serving in the year 2014, according to the NAO report https://www.nao.org.uk/wp-content/uploads/2016/02/Training-new-teachers.pdf . This seems like a lot. In fact, slightly more teachers entered teaching than left it. Sounds good right?
Not really. Statistics can lie if looked at superficially. Dig a little deeper and we find that more than half the entrants were newly qualified teachers and most of the ones who left who were experienced ones. To add to this, during a teacher drought, the government has decided to impose visa restrictions on overseas teachers! Deporting teachers, many of whom teach essential STEM subjects, is not a good idea!!! It shows that while the Education Ministry claims recruiting quality teachers is its 'top priority', the Home Office is directly working to make this difficult.
There are many reasons teachers leave UK schools for international waters. While according to the government, teacher shortages are simply because there are more students than ever before and the supply has not caught up with the ever increasing demand, the reality seems far from that fact. Most teachers seem to leave because teaching has just become too stressful and challenging. If you read my SAT posts you will understand what pressure teachers are under. The other issues with recruiting teachers is that education budgets have been cut and graduates are finding better paying jobs.
Also, when then-Education Secretary Michael Grove complicated the routes to teacher training he made a lot of schools take on the training of teachers 'on the job', something the schools were not equipped to handle. As a result, School Direct recruitment targets have consistently not been met. To add to all of these issues, international school packages can be very lucrative, at the very least matching those of private schools in the UK. Additional perks are tax-free salaries, free accommodation, flight and shipping allowances for the whole family, a chance to travel the world and -usually – better weather!
Is it any surprise the UK is facing a chronic shortage of good people in this very important, not to say essential, profession? Though the government is considering monetary incentives, also called 'golden-handcuffs', it may not be enough. The 'perfect storm' of slashed budgets, raised expectations, more paperwork and more attractive opportunities unfortunately means that the actual losers are our own children. What can be done to turn the tide?
Let me know if you have any thoughts! I would love to hear them.