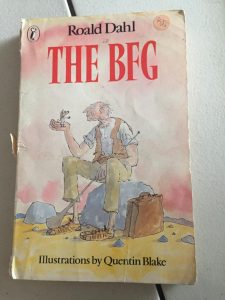 For someone who was never trained in art and instead read English at Cambridge, Sir Quentin Blake is one of the most distinctive artists in the world. Not only were his illustrations ground-breaking for being quite as important as the Dahl stories they depicted, his work actually is intrinsically linked to our enjoyment of the books. I, for one, cannot imagine the BFG as anything other than the big-eared version Blake created that I have known and loved from childhood. Blake's illustrations are as important to my enjoyment of the book as the gleeful genius of Gobblefunk, the language Dahl invented for the BFG.
Christies recently auctioned off many of Sir Quentin's drawings, and none were probably as sought-after as the ones he did for Dahl's books. However, he is not confined to illustrating for Dahl, though it is certainly what he is best known for. He has done a lot of functional art, as it is called, creating book covers for writers like Kingsley Amis, and has a whole set of items with his illustrations on them, like wallpaper, fabric and plates. People might look down upon artists who create art for a purpose, but if you are not an artistic snob, you will know that great artists can brighten up all aspects of our lives.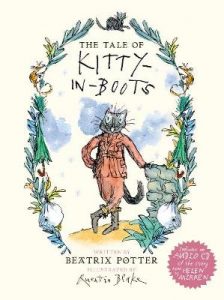 Blake has also written (and of course, illustrated) several books of his own. He has also created logos and illustrated for series on television. He was also chosen to illustrate the newly discovered Beatrix Potter book, The Tale of Kitty in Boots. If you can't have the eminent Potter illustrate her own work anymore, then Blake would be the other obvious choice. It is interesting to see how he has kept the ethos and feel of Potter's own drawings, but has added his own twist. The work definitely carries Blake's signature style.
Blake has won many awards– rightly so. He was awarded a CBE by the Queen, has won the Hans Christian Anderson Award, a very prestigious honour for the creators of children's books, and was the British Children's Laureate for two years. He was made a Royal Designer for Industry, another royal honour for sustained excellence in design. He is also a Fellow of the Royal Society of Literature. He has received many other accolades in the UK, France and internationally.
As an author myself, I understand what a difference illustrations make to a book, especially a children's book. My enjoyment of books such as The Wind in the Willows, the Winnie the Pooh series, and of course all of Roald Dahl's books are unfailingly linked to the images. They are what I see when I close my eyes and imagine the world of those stories. Do you agree?