What a night for Adele. I was delighted, she is my favourite singer, high up there with Whitney Houston and Amy Winehouse (both sadly no longer with us).
She's back after a 4 year break. 18 and 21 both amazing albums with lyrics that get to everyone. "Chasing pavements" can't be beaten. 25 is even better. The queen of heartache is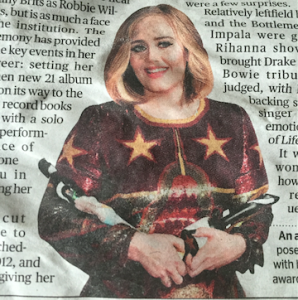 now 27 and seemingly happily settled in a relationship with little boy of  3 called Angelo.
What I like about Adele is that she is not obsessed with looks and getting publicity at any cost. She isn't on Twitter or Instagram 24/7 or setting up photo opportunities for paparazzi. Instead she lets her talent and music speak for themselves. Compare her to Rihanna singing at the Brits, who thinks hip gyrating, crotch-grabbing and doggy style sex on stage with a guy called Drake is as important as the music. I do think she is a great singer too though!
Adele who won four Brits showed us that with amazing real talent all you have to do is sing.
Thanks Adele for still being a normal ordinary person with your swearing and giggling which makes you one of us… until you start singing and then it is evident that you are not.