Today is the anniversary of my dad's death. He died 20 years ago to the day. Not only was his sudden diagnosis for stomach cancer and the fact he was given one month to live, at the age of 64, horrendous but his death in the month of December has changed the way I see Christmas and feel it.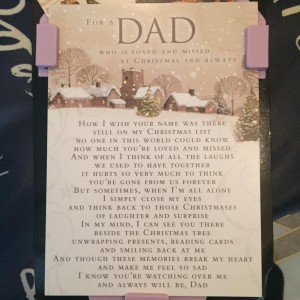 My birthday is on the 10th December and I spent that birthday 20 years ago with him in hospital and he still tried to make me laugh.
Up to Dad's death our Christmas has been magnificent affairs very family orientated and often with up to 33 of us together. Presents filled the room literally to the point you couldn't walk into eat easily.
Dad loved presents and when we were small Mum would hide ours in the loft and when out he would always give us some presents early. He was as excited as us by them. Dad loved Christmas trees and would carry the biggest one home on his shoulder from town every year. He also loved Christmas songs; Bing Crosby was his favourite.
The love was in our hearts and soul. Dad's death killed Christmas for us. My son was only young so I of course I continued to celebrate Christmas and made it as fun and as special as I could although that one person missing changed everything irrevocably. Our family in many ways fell apart; without Dad people did their own thing.
In amongst the laughter and funny moments of Christmas from then on I would often think of dad's funeral car driving through a busy town full of people preparing for Christmas; some singing, some shopping some drinking – all the normal things that happen at this time of year. But for us it wasn't normal; we were taking my dad to the cemetery.
20 years on the pain has eased but love has not waned. There are many people who have lost a loved one at Christmas and once they have they know Christmas will never be the same again…but being such a magical time of year we can hold onto our happier memories and still make magic.
Elisa x