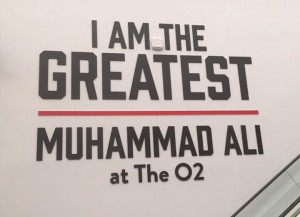 "To be a champion, you must believe you are the best. If you're not, pretend you are" – Muhammad Ali.
There's a major new exhibition about the former undisputed world heavyweight-boxing champion's life at the O2, it started on the 4th of March and runs through till the 31st of August 2016.
The show depicts the life of Muhammad Ali from his humble beginnings in Kentucky to being termed the world's greatest. I have been to this exhibition and it was indeed fabulous, I'm really glad that I went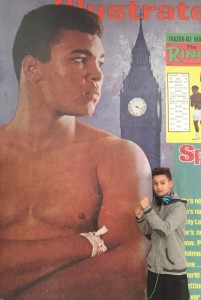 . Touring my friend's son Dylan around, teaching him about the greats of this world was fabulous. He really got into the spirt of it!
I am a huge Muhammad Ali fan. One extremely important thing he said was regarding "Time"; the most important thing you can give people you care about, is your time.
I met him a few years ago with my son (he was still a little baby then) at Brent Cross Shopping Centre and he was so nice and literally carried my son all around the shopping centre and even gave us his signed book after.  I became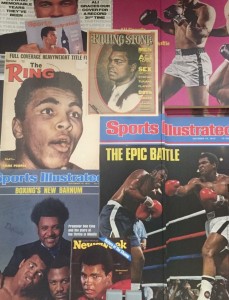 interested in him even more and learnt he was involved in a lot of charity work such as poverty, poor literacy, homelessness, aids, HIV and Parkinson's disease. He was diagnosed with Parkinson's in 1984, now 74 years old, his wife hopes he'll be able to make it to the show at O2, as he's been ill.
The mother of Stephen Lawrence, the race murder victim who is an anti- racism campaigner has apparently urged the government to recognise and celebrate the "ceaseless work" Muhammad Ali has done for charity by giving him an honorary knighthood.
There's currently a petition in this respect with more than 25,000 people signing for the move, which has been backed by celebrities and politicians alike such as London Mayor Boris Johnson and Bob Geldof.