I find this day a sad one…in my Italian household this is the day we take down all the Christmas tree decorations and pack them up ready to put up next year. But if only for a day, or a moment, the house feels bare and the radiance gone. The twinkling lights, that cosy feeling and the spirit of Christmas where people are kind, happy and generous disappears in a puff.
Today is also significant in my culture for being La Befana Day. The day is represented by a little old lady – sort of like a Mother Santa Claus – who delivers presents to children across Italy on Epiphany Eve. All sorts of tales and legends exist about her background and next Christmas I will write a blog on her as she was such an important and happy part of my childhood. Another significant fact about this day, and personal to me, lies in the fact it is the birthday of a woman I don't get on with at all and who has turned life upside down in a very sad way for my family. So yes, the 6th of January is a day worth writing a blog on this due to its significance in my life where these three things rise to the surface for me.
Before I leave Christmas behind and I pack the tree decorations away I think about what lay under it and all the excitement that it generated.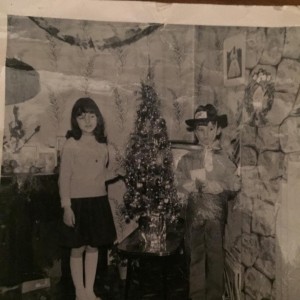 We open our presents after Christmas Eve Midnight Mass. We get home at two in the morning and have our snacks, such as Italian sausages boiled in a pan with pickles and eaten with fresh bread and pork pies, having been brought up in Yorkshire; they are a must and often topped with cranberries. As we eat light on Christmas Eve, always fish, we are always starving after Midnight Mass. After eating we sit together opening our presents in turn so we can see each other's reaction.
When I was a little girl I would wake on Christmas morning long before dawn and pace outside my parents' room until I was allowed to wake them. The moment they and my older brother woke up we'd start with emptying our stockings which were filled with tangerines, chocolate Father Christmases, nuts, trinkets and toys. And wow! These tangerines tasted delicious…so much better than the ones in Mum's fruit bowl!
Fuelled on chocolate and fruit we moved onto the Christmas tree; presents were piled high under it and, still in our pyjamas, we would open our presents and play with them all day. Dressing up beautifully for Christmas lunch and in some cases wearing the clothes we had received as presents under the tree and opened that very morning. We would sit together and enjoy our Christmas lunch with all our family.
It was a combination of Italian and English traditional. We would start with tortellini al brodo. The broth was made with the turkey's giblets and up to this day we always begin our meal with these 'parcels of love' as they are called. We would then have antipasto… Italian meats, cheeses, olives, etc. Our third course would be made up of the traditional turkey dinner but accompanied by two or three other meats, usually pork and beef.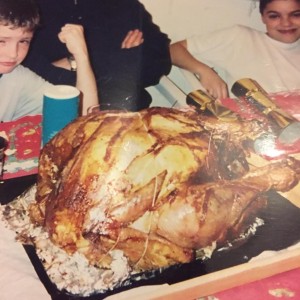 Christmas music would be playing too; sometimes pop music and sometimes Christmas carols.
Back then it was just the four of us as a lot of our relatives lived in Italy, and some had converted to Jehovah's Witness much to my mum's horror!
Regardless, our Christmas Day was fab. The table was always decorated with a centre-piece of poinsettia and holly with tall red candles and the best silver cutlery was out. All our best plates would be laid out and a crystal carafe which my parents would fill with their homemade wine.
As we grew older the family grew and there were eventually fifteen of us. One Christmas we entertained thirty-three! Now I sometimes go to my cousin Bruno's in Welwyn Garden City as my aunty and uncle and other cousins go there too.
Regardless of what type of Christmas it is and with each number we always open our presents after Midnight Mass.
I know some friends of mine would wait until after dinner before opening theirs. Every family has its own traditions. What are yours? Let me know in the comments below – I'd love to hear from you.
Elisa x