Wow! The chair that J.K Rowling, the author of the Harry Potter series sat on whilst she wrote the first two books has been sold for £278,000. Again, I say WOW!!!! I keep thinking it's a joke and I'm definitely not hearing this right, please see picture of said chair below.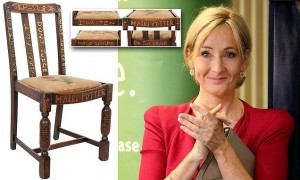 No offence but I think it's a hideous chair, I wouldn't put it at my dining table or even outside in my garden… lol, just kidding but honestly what's the world really turning into.
The 1930s chair was donated to the writer when she was still living at her council flat in Edinburgh. The author has said this was her comfiest chair of four that she had at the time and she sat on this particular one to write Harry Potter and The Philosopher's Stone and Harry Potter and The Chamber of Secrets, she even painted on the wood – "I wrote Harry Potter while sitting on the chair".
The chair seems so mundane, actually its ugly in my opinion to be sold for such a pricey amount but I guess if one has the money then why not. Though it doesn't seem to be quite as comfy anymore as she gave it up saying her nostalgic side is sad to see it go but her back isn't.
Even though I am a fan of The Harry Potter series, and not surprised her books have gathered a lot of attention making her one of the best sellers of all time and one of the richest women. The chair was first auctioned off in 2002 and £15,000 was raised for NSPCC, the second time was for the price of £20,000 by a dad who bought it for his daughter who was an avid Harry Potter fan. However, it's really beyond shocking the difference between £20,000 and £278,000, the latter being the most current price that it was bought anonymously for.
Honestly… £278,000 for a chair????