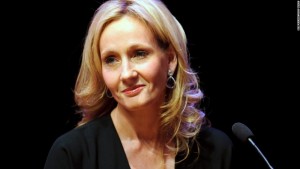 I am a would be author, just sent my first novel to a publishing house who has expressed an interest in my synopsis so I am keeping my fingers and toes crossed tightly until I hear back. Every children's author wants the success J K Rowling has had, but whether that will ever be seen again is another matter! She was hugely successful and what I like about her is that she helps people in plight, children particularly. She puts a lot back she is not a taker even though  she is worth a fortune and that is why I have chosen to blog about her. Hoping by doing so she will bring me some luck, here is some information on her I think you will find interesting if you are a fan and have read her books with your children.
J K Rowling was born on 31st July 1965, in Yate Gloucestershire in England. She has a younger sister called Dianne. She studied at St Michael's school, it has been said that the Headmaster of her school was her inspiration for the character Albus Dumbledore.
After graduating from Wyedean school she attended Exeter University, she studied French. When she graduated she became  a bilingual Secretary in Paris before returning to London and working for Amnesty International.
At 25 J K lost her mother, after ten years of suffering from multiple sclerosis. She then moved to Portugal to teach English.
When back in London she started working on a story about a wizard , she says that the idea of Hogwarts, Harry Potter and magic trains, came to her on a train journey from Manchester to London.
in 1991 she married a journalist, her daughter  wasn't yet one and she got divorced. After her divorce her and her daughter moved to Edinburgh in 1994.
From then, she was now determined to get the wizard novel finished. She applied for a grant from the Scottish Arts Council in order to complete her novel, she got awarded this. So her move to Scotland was a good one as this funding made it possible. I realise now having to have a full time job made my novel writing difficult.
After 2 years of writing, in 1993 the novel was complete, the novel got turned down by 12 publishers, she sold the rights to Bloomsbury Publishers for £1500.
The happiest moment For J K was when an American company, bought the American rights to publish the books for £100,000, she could now take up writing as a full time career and support herself and her daughter purely through her  writing.
Joanna's recognition happened quickly, her first book Harry Potter and the Philosopher's Stone became a best seller and won the British Book Awards for Children's book of the year.
In American the book was renamed as 'Harry Potter and the Sorcerer's stone.' The sequels then came one after another. The next 3 books made J K a household name as J K Rowling and she topped the best sellers list in America and England.
The fourth book Harry Potter and the Goblet of Fire came out in 2000 and again was a record breaker in sales in America and England, after 3 years the fifth book came , again a record breaker. The sixth book also broke all sales record in 2005.
JK finished the seventh book which was the final one in 2007, this again was also a huge success.
In total the 7 books have sold over 470 million copies worldwide, translated into 74 languages and also been made into amazing films by Warner Brothers who paid millions for the film rights in 1998.
J K's books have inspired an interest in reading amongst children at a time where they would prefer to watch TV and play on computers.
She married Neil Murray in 2001 and has 2 children from this marriage she is currently living in Scotland.
She has written adult novels which received mixes reviews , but once discovered as herself being the writer sales went through the roof.
She has been awarded an OBE for services to children's literature and has established the Volant Charitable Trust to combat poverty. She helps disadvantaged children in Eastern Europe.
J K's worth is estimated by Forbes to be in the region of £500 million, the Harry Potter brand is estimated to be worth around £7 billion.
What an inspiration. 'Tredicino and the medallion keeper' is the name of my book. Look out for it as apparently Jupiter has moved into my sun sign Sagittarius and its my year for success. His there until early December 2019. So I have a few more months of lucky Jupiter.